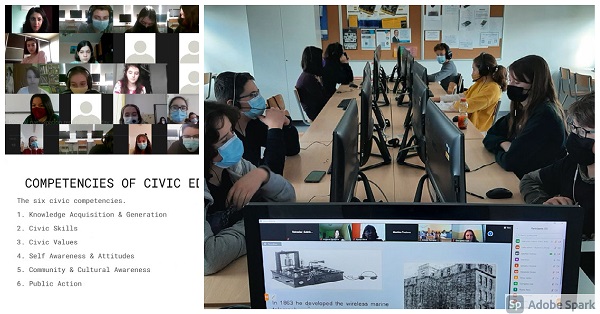 From 15th to 19th March the students of 25 OU "Dr. Petar Beron" from Sofia in Bulgaria, Școala Gimnazială Romanu from Romania and Osnovna škola Odra from Zagreb participated in the first mobility in our project. It was held virtually due to the current circumstances. Virtual meetings were held via Zoom and students were accompanied by their teachers. They shared presentations on political systems and personalities, education systems, mass media and politics in general, collaborated to create a dictionary of democracy, acted as journalists at a professional gathering of teachers, but also had fun in group activities. Although students would certainly prefer to travel to Romania, this kind of mobility also managed to interest and cheer up our students while awaiting some better times.
An overview of the mobility activities can be found below, as well as the achieved outcomes and links to additional materials on Twinspace.
DAY 1
Welcoming moment
Director's speech
Teams presentation – each partner presented themselves
School presentation – each partner introduced their school
Teamwork – activities for students through which they got to know each other
Presentation of the outstanding personalities in the history of the participating countries
DAY 2
Creating a dictionary – common words about active citizenship, democracy, responsibility
Presentation of the outstanding personalities in the history of the participating countries – each partner showed their presentation
Interactive comparison of the political systems and constitutions
DAY 3
Exhibition of photos of political leaders – each partner shared photos
Presentation of the educational systems – each partner presented
DAY 4
International Symposium – each participant presented inspiring teaching materials they use in their daily practice – students asked questions about the materials presented during the symposium
Seminar: Becoming Citizens in a Changing World
Workshop: Why is constitution important?
DAY 5
Lesson: Mass-media
Presentations "The role of mass media during political campaigns"
Seminar: POLITICS3 – each partner presented their findings related to the political topic monitored for seven days through media
Presentation of digital tools to create educational resources
Closing session & Evaluation
Text author: Ana Serenčeš